The attack went viral thanks in part to Donald Jr.'s retweet and an assist from Twitter accounts identified as bots. The onslaught echoes the "birther" campaign against Barack Obama falsely claiming he was born in Africa and couldn't therefore legally be president. Donald Trump (with wife Melania ) was a leading voice among a group of conspiracy theorists that promulgated the Obama birther lie. Now the attack moves down a generation.
The irony is that those challenging Harris' "bonafides" as a minority are battling to undermine equality from within a right-wing perspective.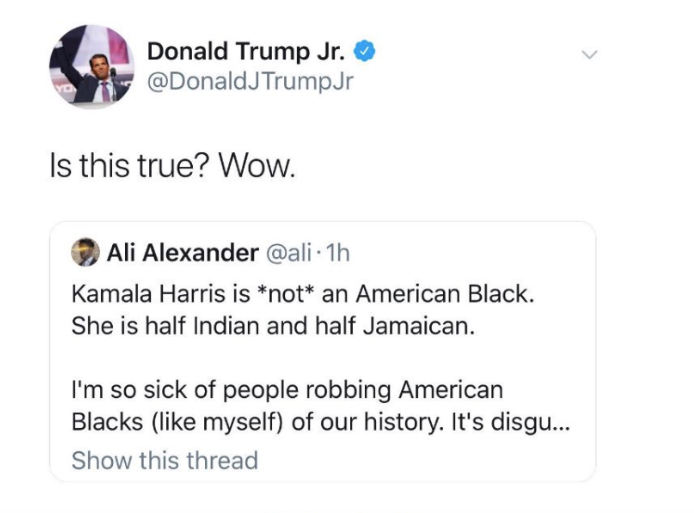 Several other candidates for the Democratic presidential nomination quickly came to Harris' defense — and lashed Donald Jr. He deleted the birtherism tweet after boosting its readership.
Washington Gov. Jay Inslee ripped the Tump family's birther legacy.
Sen. Bernie Sanders (I-Vt.) deadpanned: "Donald Trump Jr. is a racist too. Shocker." And Sen. Cory Booker (D-N.J.) declared that Harris "doesn't have shit to prove."
Joe Biden — who Harris clashed with over desegregation busing in the debate— slammed the "same forces of hatred" behind the birtherism attacks on Obama and Harris. 
Sen. Elizabeth Warren (D-Mass.) was the first of the rival candidates to attack the "racist" attack in a tweet.
REAL LIFE. REAL NEWS. REAL VOICES.
Help us tell more of the stories that matter from voices that too often remain unheard.